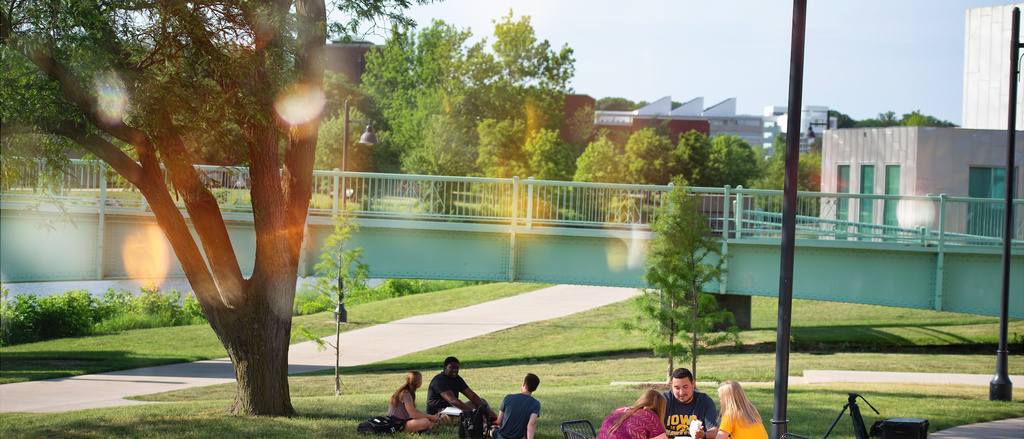 Enterprise Information Security Program
Enterprise Information Security Program Plan
PART 1: OVERVIEW AND SECURITY PROGRAM OBJECTIVES
The University of Iowa's program for information security is a combination of policy, security architecture modeling, and descriptions of current IT security services and control practices. When integrated, the overall program describes administrative, operational, and technical security safeguards that must be implemented for/in information systems involved in the processing and storage of sensitive or private information.

The Security Program provides business value by enabling the delivery of applications to more individuals, in a timelier manner, with integral data.  Appropriate information security is crucial to this environment, in order to manage the risks inherent in a distributed, open computing environment.

The practice of "Defense in Depth" is utilized at the University of Iowa, providing several different layers of protection, each working to contribute to the overall protection of information assets:
Information integrity and access controls
Application logic, error checking, and data validation controls
Server and client based logical and physical protections
Internal and perimeter network level protections
Employee policy, practices, and procedures
Business Owners, along with the University Information Security and Policy Office, are responsible for taking appropriate steps to assess internal and external threats that could result in unauthorized disclosure, misuse, alteration, or destruction of institutional data. Risks in a large and diversified computing environment may include, but are not limited to:
Unauthorized access to sensitive or confidential institutional information
Compromised computer system(s) integrity as a result of access by an intruder
Interception of data traversing network(s)
Physical loss of data center, infrastructure, facilities, or computer equipment
Errors or other corruption introduced into computer systems or applications
Inadequate system administration support practices
Loss of system availability
Responsibility for managing the University Information Security Program is described in the Security Policy.  This program description will be reviewed and updated as necessary on an annual basis by the University Chief Information Security Officer.  The revisions and reviews of this program will be recorded in the table included as Appendix A.   In addition, documentation supporting the University's compliance with regulatory controls, as appropriate, will be maintained by the Information Security and Policy Office.  This may include audit reports, assessment reports, and other documents that are prepared.     
PART 2: SECURITY PROGRAM CONTROL AREAS
Risk Assessment and Planning
Risk assessments are performed on critical information technology assets of the University of Iowa on a regular basis by both the University of Iowa Internal Audit department, and by the Office of the State Auditor.  Feedback includes a comprehensive report of actionable risk mitigation/remediation recommendations.

The Information Security and Policy Office also performs technical risk assessments, and/or penetration tests for management and business owners upon request, which are conducted and maintained in a strictly confidential manner.  In addition, a formalized process for approving IT security plans for research, prior to (contract) agreements, grants, and other relationships or collaborations with the University of Iowa is available, which includes a security risk assessment phase.

The Information Security and Policy Office in conjunction with the Information Risk and Policy Council will, in addition, facilitate an entity wide security risk assessment, as necessary whenever significant changes to the computing environment are implemented, or minimally within five years.

Security must be a consideration from the very beginning of any project at the University rather than something that is added later. The Information Security and Policy Office is a resource available to assist with this effort throughout the planning phase of a project. In addition, a control review should be performed before implementation of computer systems which house or handle confidential institutional information.  This may include a:
technical security evaluation to ensure appropriate safeguards are in place and operational
risk assessment, including a review for regulatory, legal, and policy compliance
contingency plan, including the data recovery strategy
review of on-going production procedures, including change controls and integrity checks
penetration test to evaluate and ensure controls operate as expected
The Network Vulnerability Assessment and Incident Response Policy describes the types of network based assessments conducted by the Information Security and Policy Office to determine the effectiveness of controls and management of systems connected to the University data network.
Security Policy
All IT policy, under the review and approval of the University Chief Information Officer, is included in the University Operations Manual via the Acceptable Use of Information Technology Resources Policy which describes the expectations for all members of the user community for appropriate use of technology, protection of privacy, and protection of academic freedoms.  The University of Iowa has developed a process for development, review, and approval of IT policy, which is documented at https://itsecurity.uiowa.edu/policies-standards-guidelines/enterprise-it-policy-development-and-approval-process

The University provides an annual campus e-mail notification to all members of the University community describing a selection of important IT policies.  The notification also directs them to the IT policy repository as an additional educational measure, and includes key aspects of policy in the computer based security awareness program offered to campus personnel.    
Organization of Information Security
The Security Policy describes the overall organization at the University of Iowa.  In addition, the information security architecture model below describes the local and enterprise level services, technologies, responsibilities and techniques in use.

All Information Technology Services personnel are required to sign a data confidentiality agreement at hire time, and annually thereafter via the Employee Self-Service web application.  The statement is available at itconfidentialitystatement.pdf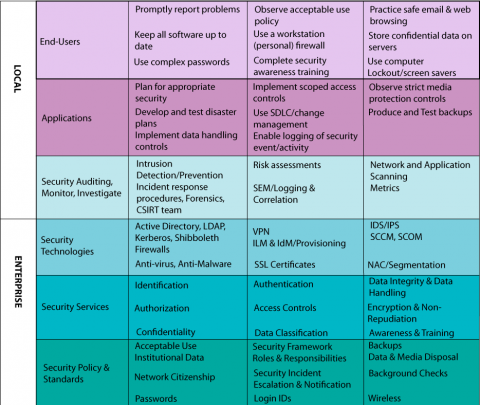 Asset Management
The Security Policy and Institutional Data Policy describe individual responsibilities for managing and inventorying our physical and logical assets.

A tool is available to assist business owners of institutional data to appropriately classify the sensitivity of their information, Determining Risk Levels.  Once a set of institutional data is classified, appropriate protections can be applied.

In addition, the University has developed a policy regarding the use and protection of Social Security Numbers.
Personnel Security
The University of Iowa has implemented a policy and program to perform Credential and Criminal Background checks when filling all security sensitive positions, at point of hire. The policy includes the necessary consent documents and procedures.
A computer based, self enrolled, Computer Security Awareness Program is available to all University employees, through the Employee Self-Service Portal (https://hris.uiowa.edu) "My Training" resources.

A marketing campaign is conducted periodically to raise awareness of its availability, along with other directed reminders.  In addition, security seminars are offered to campus IT staff, as well as a "Security Day" training event.  Poster and postcard campaigns are also used, with links to the Information Security and Policy Office website.

Specialized training is also offered for privacy issues related to standards and regulations such as Family Education rights and Privacy Act (FERPA), Health Insurance Portability and Accountability Act (HIPAA), and Payment Card Industry Data Security Standards (PCI-DSS).
The University Human Resources department maintains information related to the employee exit process (terminations and transfers), which includes policy and forms, at the following location: https://hr.uiowa.edu/employee-and-labor-relations/guidelines-for-hr-reps-and-supervisors/employment-termination/employee-exit-checklist

Account provisioning and authentication are provided by Identity and Access Management.
Physical Security Measures
The Security Policy has a section under Information Access that describes physical security requirements.  In addition, requirements for preventive measures, emergency operations, and mobile devices are outlined. 
The Institutional Data Policy describes the requirements for physical security of equipment and data when it leaves owner control.  The Information Security and Policy Office offers a training program for IT staff involved with transfers or disposals of equipment.
The Institutional Data Policy describes requirements for backups, including off-site storage of media. 
Communication and Operations Management
The Security Policy includes a section on information integrity controls which includes requirements for segregation of critical functions, maintenance of systems and applications software, change management procedures for applications, as well as anti-malware control requirements. In addition, automated operations and contractor access are outlined, as well as auditing and logging requirements and communications security requirements.    
 
The Institutional Data Policy describes data handling controls for various sensitivity levels of data, requirements for backups, and requirements for secure disposal of  information. The University Records Management Program at https://fmb.fo.uiowa.edu/records-management has information regarding the retention of university records.    
Access Control
The Security Policy outlines requirements for information access in the Information Access section. In addition, the standard format for Login Identifiers (user names) is described in the Enterprise Login ID standard, and the requirements for authentication are in the Enterprise Password Standard. The Institutional Data Policy describes the classification scheme for institutional data and the data handling controls required for each level of data.  Requirements for systems attached to the University network are described in the Network Citizenship Policy.
The University provides a Virtual Private Network (VPN) service for secure off-site access to university resources.
Systems Development and Maintenance
Information Integrity Controls are described in the Security Policy and include separation of duties and functions, emergency access procedures, system and application management process, and software development change management procedures. Information regarding encryption is also described, with additional resources and assistance at the Encryption Support Center.
Disaster Recovery and Business Continuity Management
An enterprise level disaster recovery plan overview has been developed and is available upon request. This resource includes a methodology for developing unit-level disaster plans to compliment the university plan.  A sample set of planning forms template is available for units at drbc-planner.xlsx

Preparing for emergency operations and business continuity is also described in the Information Security Framework Policy (1). The University of Iowa also maintains a Critical Incident Management Plan at https://opsmanual.uiowa.edu/administrative-financial-and-facilities-policies/critical-incident-management-plan   
Information Security Incident Response
The Network Vulnerability Assessment and Incident Response Policy describes processes related to incident response and breach notification. The Information Security and Policy Office has analysts available via our on-call process to assist with security incident response, forensic analysis, e-discovery requests, and to aid in controlling liability to the university in the event of a breach.

The Information Security and Policy Office provides continuous monitoring of the university data network for malicious activity, and reports problems as they arise to department network/security contacts (NSC's) within each unit, who are liaisons to the Information Security and Policy Office for security and networking issues. A scanning service is also maintained to assist with determination of vulnerabilities in systems and applications.
Compliance
The following regulations pertain to information security and privacy, to which all or part of the University's electronic information applies:
The Information Security and Policy Office assists all University units and areas with assessments and testing methods to ensure compliance with all applicable privacy and security regulations. 
PART 3: INFORMATION TECHNOLOGY POLICY
All University Information Technology policies and standards, as well as related business policies, may be found at https://itsecurity.uiowa.edu/policies-standards-guidelines.  Individual units within the University may define policies/conditions of use for IT resources under their control.  These policy statements must be consistent in principle with enterprise IT policies, but may provide additional detail, guidelines or restrictions.
Appendix A – Security Program Review and Change Log
Security Program Revisions:
Developed May 2003
Revised December 2004
Revised November 2006
Revised March 2009
Revised April 2010
Revised October 2010
Revised April 2013
Reviewed August 2014 
Revised March 2016
Revised February 2021
Revised February 2023